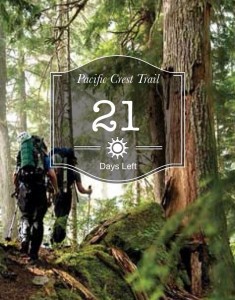 Just 21 days left and I will be standing next to a 15 foot metal border fence separating Mexico and the US.  The starting point for the Pacific Crest Trail.  I know if I had to I could be ready in less than 48 hours yet it seems I still have so much to do!  Here are a few random realizations and tasks on my mind today…
I have way too much tuna for my resupply boxes.  I think I have 125 packets…
I don't really like tuna all that much…  🙁
I just bought a kilt!  really?  Somehow a rain kilt seemed like a great last minute addition to my gear mix this morning.  I am now waiting on my rain kilt, more lithium batteries, a new head lamp, 10 pairs of socks, and 3 more memory cards for my camera.
I  keep reminding myself to order my new backpack  the Osprey Exos 58 on Friday.  The REI sale starts on Friday so I decided to wait and order then…  I am sure it will arrive on time!
I have all my resupply boxes staged and almost done but last week decided to ship them in regional boxes…  Now I am waiting on new boxes from the USPS so I can redo them all!
I still need to map out where IsoPro fuel is available along the trail and if I need to ship fuel in some of my resupply boxes.  This is the fuel I use for my JetBoil Stove.
Costco shopping list… Trail Mix, Snickers, more Snickers… Am I forgetting anything?
Activate my Get Out Of Jail Free GPS device which will allow you to click Where is the Nomad and see approximately where I am.  It will also give me an emergency rescue and evacuation if needed.  (Hopefully we can avoid using it!)
I am almost done dehydrating food!  This has been way more work than I anticipated but I am sure it will be worth it.  I can give a huge endorsement for Nesco Snackmaster Pro Food Dehydrator.  It has been running 24 hours a day for over a month and will provide me something other than tuna to eat!
I have amazing people in my life… I mean really amazing people and I am floored at what others are willing to do to help me with my journey. Thank you thank you thank you!  You know who you are!  Thank you!
A bit random but this is how my life is right now… I am in a constant state of getting something else done and trying to stay focused!  I am extremely happy and excited!