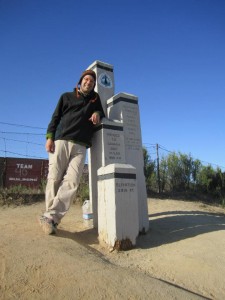 Just a few days shy of one year ago I was disappointed as I missed a hiking weekend in Sedona and instead was taking care of my father.  At the time he needed little care but could not be alone and spent most of his time watching TV while playing facebook games.  I knew I was exactly where I was supposed to be taking care of him.  I had no idea how big of a gift I would receive this very weekend.
Like my father I spent much of my time on the computer.  I'm not sure what I was looking for or how one site sent me to another and then another but I do remember finding a blog, poorly written, with about 10 posts.  The writer was talking about her journey on the Pacific Crest Trail.  It peaked my interest just enough for me to search again and by chance, magic, or destiny I found a blog written by Anna (North Star) and Chris (Shutterbug) about their PCT journey Wandering the Wild.
I spent the next few days reading their entire blog.  I was captivated by the simple writings and the amazing photos.  Each post seemed to capture more and more of my heart and mind to the point where I thought of nothing else…  I had to give in as I knew my heart and mind had already made the decision.  I would hike the Pacific Crest Trail.
12 short months later I am 59 days away from starting my five month journey on the PCT.  I have spent a lot of time finding the gear that works for me and reading the experiences of others.  With each passing day I find myself thinking, dreaming, and longing for my journey to begin.  Just 59 more days…