Day 6
Mile 61 – 16 trail miles. 1.4 wandering miles
The day started with a beautiful sunrise outlining the Laguna Mountains. After packing up our gear we said goodbye to our three friends who backpacked with us for the day. Five became two and we were once again alone on our journey.
The day was HOT and the descent was long… As we pulled water from a cement tank stored for fires I was told about the long hike to scissors crossing and a random boulder providing shade just before a three mile flat hot walk to the end of our day.
For miles and miles I was looking for this shade… Craving a break from the constant sun and heat draining the energy from me with every step. And then it was there like an oasis in the desert an overhanging rock with plenty of room to cook and relax while previewing the walk ahead.
[youtube=http://youtu.be/AX2Y-z_zVcw]
The oasis was hard to leave but the possibility of cold soda and beer under the bridge near scissors crossing was calling us. Not to mention the idea to try hitchhiking to Julian for pie and ice cream.
Cold Pabst Blue Ribbon was in the cooler… Something about backpacking 15 to 25 miles each day in the hot sun makes all things taste divine! And that beer was fantastic!
Our first hitch to Julian was accomplished in less than five minutes as this little black Mercedes pulled up and picked up two very smelly hikers. Backpacks in the truck we zipped along to Julian. Our smell masked by the overwhelming odor of someone partaking in "other distinctively odoriferous activities". ;). But we made it safely to Moms Pies in Julian who gives each thru-hiker free pie and ice cream!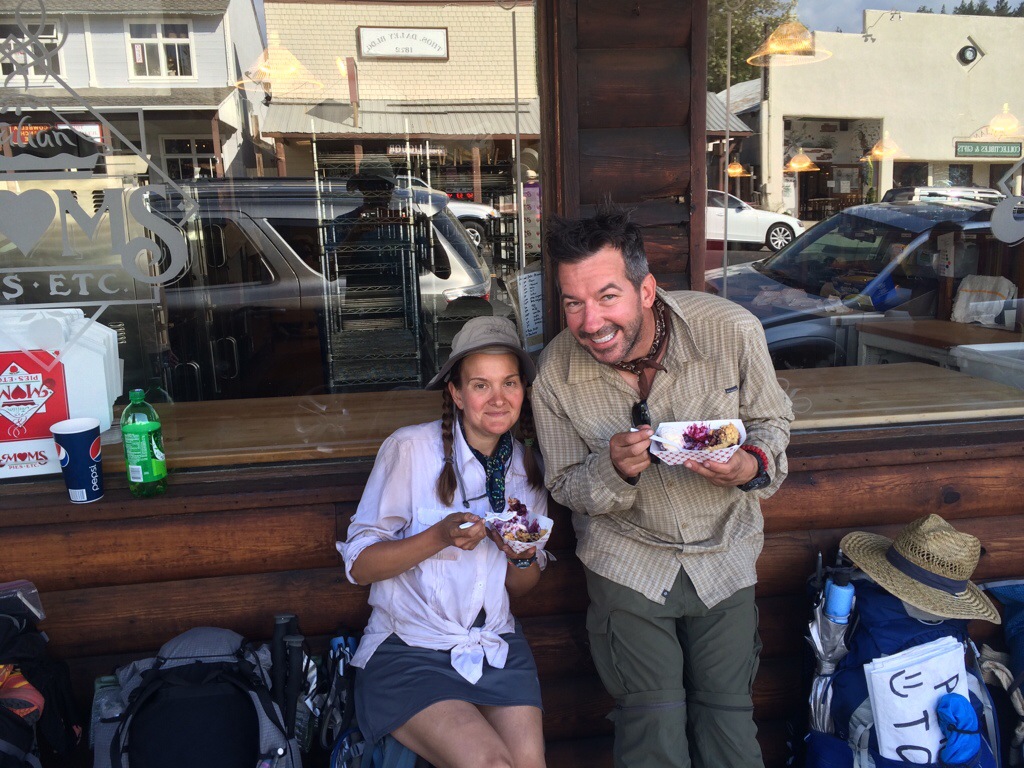 Thank you Moms Pies!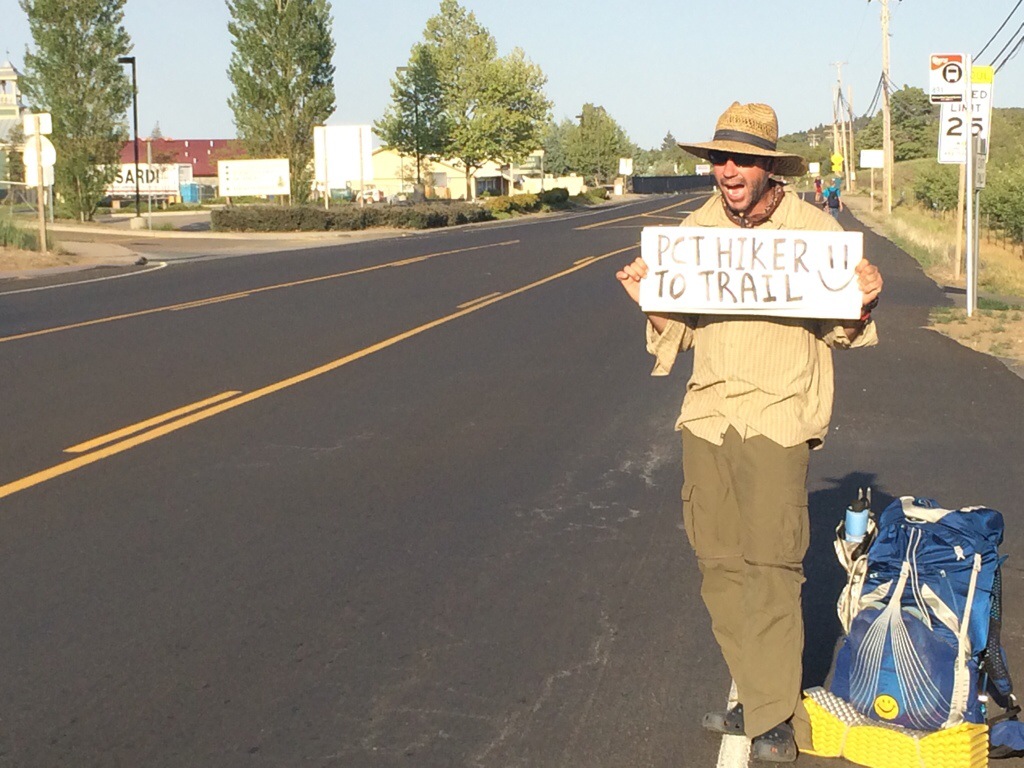 The hitch back took about an hour but a lovely couple Joel and Jody with their Burmese mountain dog Chloe took pity on three hikers and allowed us to crush our bodies and packs into their back seat for the 12 mile ride back to the bridge. Thank you Joel and Jody!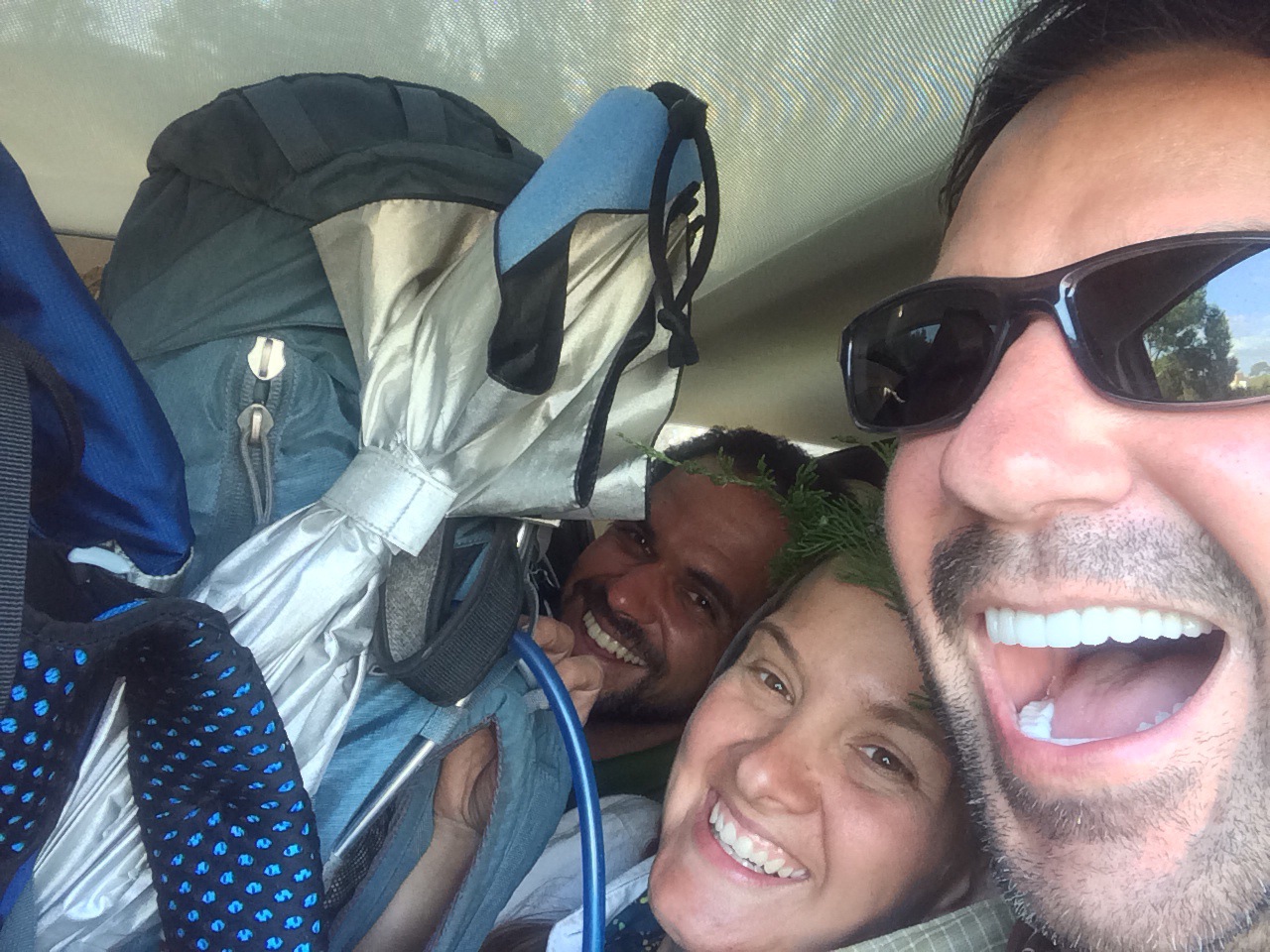 The bridge became our home for the night. Sleeping on our tarp in our bags we fell asleep looking at the stars and hearing the muffled voices of other hikers who also found this to be home for the night.